Coaxial valves are a proven element in the control of vacuum and gaseous, liquid, abrasive, highly viscous, contaminated and aggressive media. Operating from 0 to 500 bars.
Long life service
Its robustness and its balanced design give the valve a service life 10 times longer than a conventional valve, which makes them favorites in applications where the maintenance pause means a great loss of production.
 High dirt resistance
In turn, they are recommended for the most demanding systems due to their high tolerance to solids suspension and dirt accumulation, since the duct is completely separated from the operating mechanism, preventing any leakage to the outside.
Fast actuation
Coaxial valves are incredibly fast, reaching up to 25mls in repeat operations.
 Highly customizable
The diversity of products ranges from simple switching valves to application-specific special valves to complete modules.
Using a wide selection of hole sizes, port connections, seal and seat configurations, our experienced engineers adapt the valves for maximum performance in a virtually unlimited range of applications.
Coaxial valves are mostly used in the Naval, Automotive, Chemical and Petrochemical industry.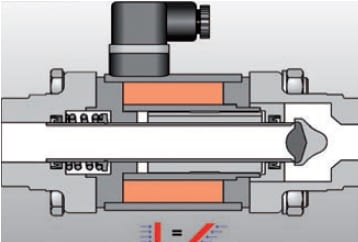 Balanced pressure design / 0 to 500 bar
The coaxial design keeps forces within the valve balanced regardless of system pressure and delta P. Whether controlling vacuum high pressure – performance remains precise and dependable. Unlike conventional valves, coaxial valves require no minimum pressure differential in order to function.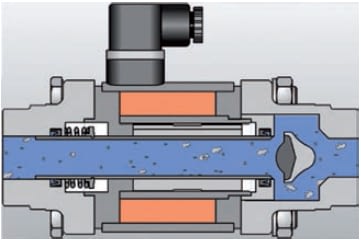 Maintenance free / High dirt resistance
The unique coaxial valve design minimizes wear of the valve seat even where extremely contaminated media is involved. Due to the special design with only a single moving part, no steam seal or external actuator / operator, coaxial valves do not require any maintenance. Even under extreme conditions, coaxial valves have up to 10 times longer lifetimes than conventional valves.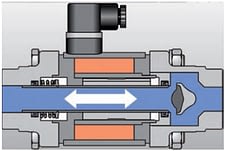 Bi-directional operation
The valve design allows fluid to circulate in both directions eliminating the need to install multiple valves.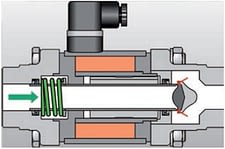 Back pressure tight
When the valve is closed, the pressure at the outlet side can be higher without any leakage.
Fast actuation
Pressure balanced design provides fast, repeatable operation in less than 30 miliseconds making coaxial valves some of the fastest valves you can specify.
Compact size
The coaxial valve design provides a compact package by eliminating bulky actuators.